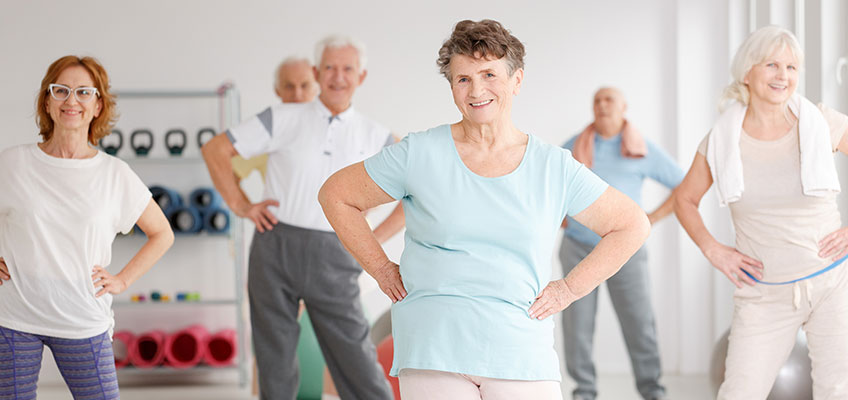 Physical Activity Guidelines for Seniors
For seniors, it is important to keep in shape to maintain health and state of wellbeing. However, it can be difficult to come up with the right exercises or workouts without a proper guideline. The good news is that physical activity guidelines for seniors are simple to employ and can keep those over 65 active, healthy, and maintaining their physical conditioning.
Here are some basic activities that seniors can do which will provide good exercise. The key is moderation so that the activities provide the necessary health benefits while not putting a strain on joints, bones, or muscles.
Aerobics
Aerobic activity works wonders for maintaining proper physical health and mental concentration. The more vigorous the activity, the less it will need to be performed on a weekly basis.
Walking or Gardening: 150 minutes per week
Jogging or Swimming: 75 minutes per week
The activities should be spread out to reach three to five days per week, so you can choose either the less strenuous one for two hours and thirty minutes per week. Or, the more strenuous activity for one hour and fifteen minutes per week. The sessions should be at least 10 minutes long and no more than 45 minutes if possible.
For seniors in better health or who want to improve their physical condition considerably, they can do the following;
Moderate Aerobics: 300 minutes per week
Intense Aerobics: 150 minutes per week
In addition, seniors can use weight resistance exercises that improve their physical strength and enhance muscle mass. Lifting weights or using resistance bands can be performed on all major muscle groups at least twice per week.
Tips
There are some tips that will help shape the physical activity guidelines for seniors depending on their physical condition.
Get a physical exam first to determine the current level of fitness
For seniors who are limited, schedule as much activity as reasonable
Create a program of exercises that minimize risk to maintain safety
Balance exercises can help seniors who may be afraid of falling
While no exercise program will be totally safe, there are steps that can be taken which will help minimize the risk of injury or overexertion. Plus, proper stretching and staying within limits will help keep seniors active and happy while staying in good physical condition.
Another tip is to mix up the activities so that the body does not get used to doing the same thing repeatedly. This helps to burn more excess fat while keeping the muscles in shape. Plus, it alleviates boredom from doing the same thing each day. Keep in mind that there are other good physical activities, such as dancing that offer an excellent, enjoyable workout.
Creating physical activity guidelines for seniors means coming up with simple, fun activities that both exercise the body and engage the mind. Also, consider the health of the seniors who engage in such activities, bearing in mind any medications, injuries, or limitations that they might have in performing exercises.
Contact Blue Parasol Home Care for more information. Please reach out to us directly at 718-349-1905 or info@blueparasol.org.