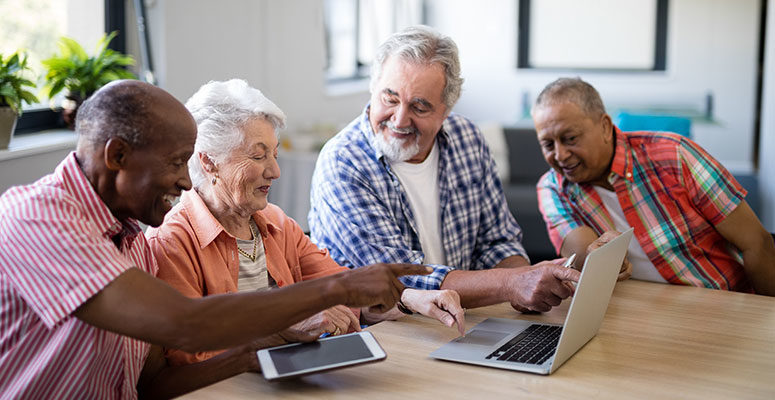 How to Help Your Parents Connect with Technology
With the rush of changes caused in large part by advancements in digital technology, it is difficult enough for younger people to keep up with the latest devices and services. For parents and those in the older generations, the changes may be too much for them to properly cope. So, it is little wonder that many seniors simply ignore the new advances. Understanding how to help your parents connect with technology may be one of the best gifts you can provide for them.
Smartphones
Getting a new smartphone is complicated enough for those who have used them for years. Teaching a parent how to operate a smartphone may seem like a daunting challenge at first, but the benefits are considerable.
A recent survey showed that 82% of seniors find smartphones as "freeing", so the desire to use them is strong. This means that they can call, text, or email when they want to stay in touch with family and friends. Teaching them how to fully use a smartphone takes a little patience and a plan.
Be Affordable: There is no need to get the latest plan or more expensive smartphone on the market. In fact, you want to go cheap and stick to the basics of calling, texting, emailing, and surfing the web.
Keep Things Simple: Don't try to teach them every little detail. Just start with the basics of calling, texting, and emailing in that order. Also, keep the teaching session light and breezy because most people, seniors or not, will have some difficulty learning a device that they are not familiar.
Provide Incentives: If you keep touch with your family with texting, then show how your parents can use it as well. A great incentive for anyone to learn about smartphones is connecting with others. This means teaching them something they will use.
Internet, Social Media, and Beyond
Chances are, your parents have used the internet as it has been around for over two decades.
Social Media: Facebook, Twitter, and Instagram are just three of the many social media outlets parents can enjoy. Building a community of internet communication through social media keeps them in touch with family and friends.
Communities: Encourage your parents if they live in a senior community, to take advantage of the wireless communication, computer stations, and other advances in technology available to them.
The improvements, especially for seniors who have been disconnected from the internet world, may be dramatic. They are now part of a larger community that they can stay in contact with whenever they want.
The joy that comes from understanding how to help your parents connect with technology means that you can now stay in closer communication with them no matter where you are located. As long as you have an internet connection, your parents can easily stay in touch with you and your children. Such advances in technology have helped people remain closer together, so learning the basics of teaching your parents to stay in touch with technology is a gift that keeps on giving year after year.
Contact Blue Parasol Home Care for more information. Please reach out to us directly at 718-349-1905 or info@blueparasol.org.