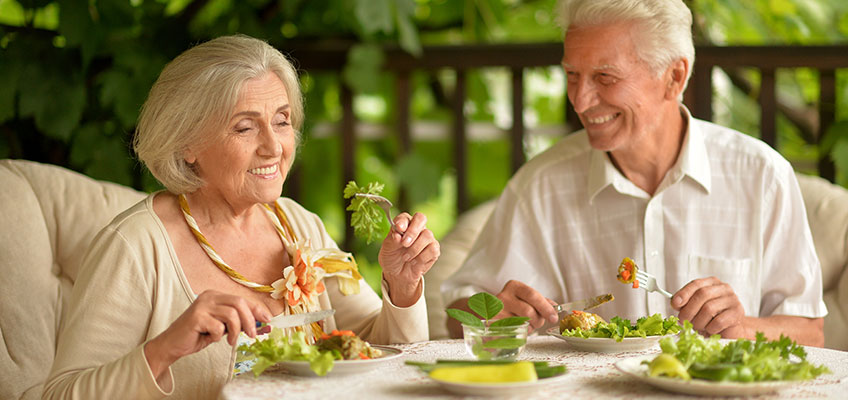 Healthy Eating Tips for Seniors
For seniors looking to spend less time with their doctor and more time feeling better, there are healthy eating tips that will help you stay independent. If you combine eating right with an active lifestyle, you can downplay or even avoid circulatory issues and diseases such as Type 2 Diabetes.
Because you are growing older, your body will need fewer calories, but more of certain nutrients to stay healthy. What follows are some simple tips that will help you get the nutrition you need without adding excess fat.
Healthy Foods
Every day, your plate at breakfast, lunch, and dinner should have something of the following:
Fruits and Vegetables
Lean Meats or Proteins
Low Fat Dairy
Whole Grains
Basically, your plate should be a rainbow of colors, which will help you maintain a healthy diet. This includes foods that are high in fiber and have less salt.
Supplements
There are many vitamins and minerals that become more important to the diet as you age. This includes Vitamin D and calcium just to name two. You can augment your diet with the proper supplements if you cannot get all the healthy food that you want to consume. Remember, taking in too much of a vitamin or mineral can be bad for your health as well, so read the nutrition labels before taking a supplement.
Read the Label
Many people, not just seniors, are unaware of what they are really consuming because they do not read the nutrition label. When you eat packaged foods, be sure to look over the label to see if they are high in fat, sodium, or sugars. You may be surprised by what you find on the nutrition label, so please take the time to look.
Drink Water
By drinking a cup of tea, coffee, or just plain water a few times a day will help you keep hydrated which avoids many health issues. You just need to drink small amounts throughout the day and you will feel better. However, you should avoid soda pop and other drinks that are loaded with sugar.
Moderate Your Diet
Eating healthy does not mean you have to skip out on cake, snacks, or other goodies. You simply need to incorporate them into your diet, so they do not have an adverse effect. This means that if you are going to snack on your favorite unhealthy foods, such as cake, pizza, or other delights, account for that in your daily diet and you will be fine.
When in doubt, eat more unprocessed, natural foods such as fruits and vegetables. They are a great way to fill up your plate without adding unnecessary calories, salts, sugars, or fats. By having fruits and vegetables as part of your daily meals, you can cut down on processed foods which means living better and healthier.
These healthy eating tips are easy to follow and quite effective in helping keep your weight down. Be sure to strive for balance in your diet and maintain an active lifestyle.
Contact Blue Parasol Home Care for more information. Please reach out to us directly at 718-349-1905 or info@blueparasol.org.