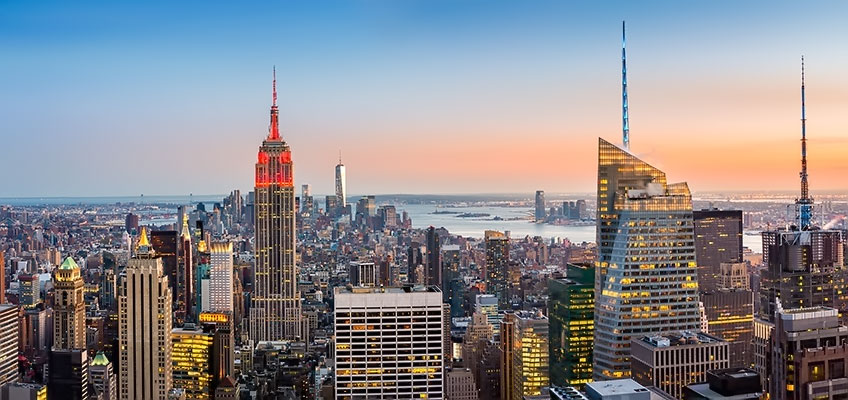 The Challenges of Growing Old in New York City
Living in a big city like New York certainly has its perks, but for seniors – especially those who are aging "in place" in their homes – urban living can pose some real challenges. Whether you're a senior, a concerned relative or a professional caregiver, below are a few common hurdles that seniors experience and some tips on how to best tackle them.
Challenge 1: "Everything's moving too fast and I can't keep up."
A common source of distress for urban seniors is the ruthless pace of city life. 4 out of 5 senior citizens we surveyed felt that city life moves too fast. New York has always been the "city that never sleeps" but with the recent explosion of internet-only-based services and mobile devices, some city-dwelling seniors can understandably feel left behind in the dust. Whereas many business and personal interactions were once accomplished with a simple phone call or face-to-face meeting, today's world of ever-changing smartphones, ever-evolving tablets and ever-updating apps can seem too much to grasp for the uninitiated. Worse yet, even tech-savvy senior citizens who venture onto a busy city street can feel physically overwhelmed by the sea of people running to and fro, faces buried in the latest tech gadget.
How to tackle it:
If you can't beat them, join them! You can run an online search for "best apps for senior citizens" and find a few that work for your specific needs or interests. These include helpful memory aids, apps for keeping in touch/socializing, games for keeping your intellect sharp, and countless health-related resources. Many of these applications are low-cost or absolutely free. If you're not tech savvy or don't own a computer, ask someone you know (or their tech savvy offspring) to help you explore the options, and consider investing in a tablet. If it's a short chat or visit, you can pay your IT helper with gratitude or a small fee. For longer sessions, if money is a concern, consider bartering by way of a "skill swap." You can teach them something they want to learn (e.g. baking a cake, playing the piano, knitting, etc.).
If you'd like to explore the city streets but wish to avoid large crowds, consider taking walks during the lulls when most people are at work or in school, usually between 9:30am-11:30am and 2pm-4pm (lunch in midtown can get quite hectic).
And, finally, there is also some comfort in accepting that technology is simply a crazy part of our lives, often useful, sometimes dreadful. Do not feel pressured into purchasing the latest computer or most expensive gadget, but do recognize that you may be missing out on valuable, easy-to-use and often fun resources if you forgo the internet completely.
Challenge 2: "I'm often bored."
The mind never stops learning. A senior citizen who has been mentally and physically active at work for decades can find retirement surprisingly difficult. Sitting around all day watching TV can seem relaxing to some, but for a significant portion of the aging population it can lead to feelings of listlessness, boredom, and even emptiness. These feelings can have a detrimental impact on the psychological, social, and even physical well-being of the individual. Highlighting the importance of staying mentally active in the golden years, a 2003 study by The New England Journal of Medicine showed that participation in mentally-stimulating leisure activities was associated with a lower risk of dementia.
How to tackle it:
One of the best ways to tackle boredom is to simply go outside — regularly. However, for homebound seniors with severely limited mobility, this proves to be quite the challenge. TV-addicted seniors spend most of their time in a very passive experience staring at a screen, but they could benefit from using a computer or tablet. Internet use is a truly interactive experience, allowing for two-way communication and enhancing one's ability to create meaningful social bonds with other New Yorkers, Americans, and humans across the globe. If, say, you're a senior with a passion for collecting stamps, there is a great big world of philatelists who've created an online community sharing resources and support on the topic. The internet is an incredibly powerful tool to help you make new friendships, maintain old ones, and to contribute to the global conversation via posts, comments, likes, votes, and email or video chat.
As far as education is concerned, the internet is chock full of free courses on every topic imaginable: from baking a cake to negotiating effectively, from learning Mandarin to taking digital photographs, from architecture to history. There really is no excuse to stop learning as we age.
However, if after considering the benefits of the internet, you have opted against its use, there are other ways to keep your body or mind busy. Local colleges, senior centers and community organizations frequently host events and offer free or low-cost classes on various topics. If you're strictly homebound, consider inviting the classroom into your home. If you have a skill you'd like to share with the world (either pro bono or for a fee), advertise through a local paper or by word of mouth. Even running one session a week can boost your sense of purpose and stave off that pesky boredom.
Challenge 3: "I feel isolated and alone."
See Challenge 2 above. The best way to fight loneliness is, not surprisingly, to interact with others.
How to tackle it:
See Challenge 2 above. If no one is coming to you, you'll have to make the effort to reach out to the community. If teaching casual classes in your home is not your cup of tea, consider volunteering for an organization or cause that you're passionate about. For homebound seniors, there may be ways for you to get involved from the comfort of your own home, either through phone trees, designing marketing posters, creating arts and crafts, addressing or sealing envelopes, etc. Don't let being home keep you from contributing to your greater community. By helping others out, you'll inevitably feel better about yourself, and you'll likely forge new connections and build new friendships.
Challenge 4: "I don't get out enough. I don't see enough nature."
Even with its parks, zoos, and outdoor spaces, New York is first and foremost a concrete jungle. All city folk often don't get enough green in their visual diet. But because of medical conditions or limited transportation options, seniors are often especially deprived of green spaces, to the detriment of their health and well-being. Countless studies have demonstrated the health benefits of plants and nature on cognitive fitness, social skills, happiness and overall health.
How to tackle it:
If there aren't any plants in your building, consider bringing up the idea with your landlord or managing organization. It doesn't take a forest – a single plant by the entrance or lobby can make a positive difference. If you have parks, green spaces, or bodies of water nearby, make it a regular habit to walk to stroll through those spaces either with a friend or, if you feel up for it, alone. If you have limited mobility, consider reaching out to friends and organizing transportation for a monthly (weather permitting) outdoor picnic. Not only will you reap the benefits of the outdoors, you'll also strengthen social bonds.
Finally, if you can't get to the park, consider bringing the park indoors – into your home. Some seniors, particularly those with a green thumb, have a bona fide rainforest of plants in their living space. It does wonders for lifting the mood of a room and infusing the space with a sense of life and color. If mobility is an issue, consider hardy plants that require minimal care, place them at a height that is easily accessible for watering, or ask a neighbor or caregiver to water them for you as needed.
Challenge 5: "I don't know where to get help."
The city is drowning in information in every field and industry. It can be overwhelming for senior citizens — particularly those with limited computer, internet or language skills – to keep up with relevant information and resources. Additionally, some organizations function like bureaucratic labyrinths, requiring excessive time and energy to navigate in order to obtain the relevant information and services. It's no wonder so many seniors feel misinformed, helpless or underserved, even when there are ample services available in their communities.
How to tackle it:
We here at Blue Parasol have compiled a list of resources to get you started. To learn more about the services we provide, please reach out to us directly at 718-349-1905 or info@blueparasol.org. We look forward to hearing from you.