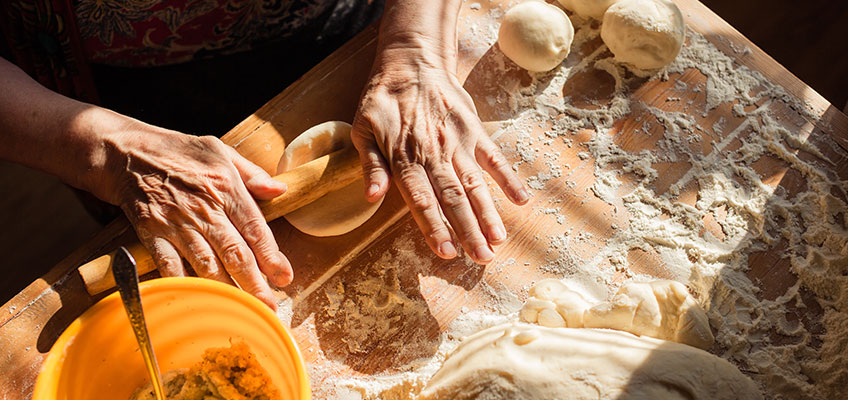 The Benefits of Cooking for Seniors
The more seniors can stay active, the healthier they will be during their golden years. One of the simplest, yet most engaging activities for seniors is the planning and preparation of meals. You don't have to be a master chef to help seniors in creating simple, delicious meals that not only provide excellent nutrition, but also keep them engaged and happy. The benefits of cooking for seniors are considerable and should be a part of their daily activities.
Preparation
Before you can begin, you will need to prepare the kitchen accordingly to properly cook the meals. For seniors, you will need to make some adjustments in terms of putting necessary items within their reach. For example, moving all the heavy pantry items to a lower level so there is no need for a step stool. In addition, there are other changes you should consider making as well.
A stool or chair for sitting
Timers to help avoid fires or burning food
Big labels for on/off switches
Clearing away unnecessary items
Basically, if something is not used or rarely used in the kitchen, it needs to go somewhere else, so the space can be used for daily items.
Plan the Meal
Everything starts with the planning for the next meal. You can do it that day or map out a calendar of meals for the week, providing them something to look forward to which helps boost their mood. Your planning should include breakfast, lunch, and dinner with a snack or two to help tide them over.
Another good reason why you should plan meals is to account for leftovers, so they can be carried over for the next day or following days. This saves money and provides extras for snacks or adding to new meals. Once the meals have been planned out, make up a shopping list for the necessary ingredients.
Shopping
Shopping is excellent exercise and provides for great social interaction for seniors. Plus, you'll have their company as you go through the grocery store finding the right items. In addition, your companion might have specific brands or types of ingredients they want which will make the trip even more enjoyable. You can choose to go to one large grocery store or stop by smaller stores such as the butcher, farmer's market, or specialty store for the ingredients you need for the meals.
Cooking
Now that you have everything needed, it's time to get cooking. Depending on when the caregiver is around, you can cook your meals daily or have several prepared at one time, then frozen so they can be enjoyed later. For caregivers, the benefits of cooking for seniors are considerable.
More social interaction
Working together
Provide optimal nutrition
Engages seniors to create greater mental awareness
Giving seniors something to look forward to is one of the most important aspects in their care. As a caregiver, cooking for seniors provides them with the opportunity to live their lives more normally while engaging in an important activity.
Contact Blue Parasol Home Care for more information about bathroom safety. Please reach out to us directly at 718-349-1905 or info@blueparasol.org.