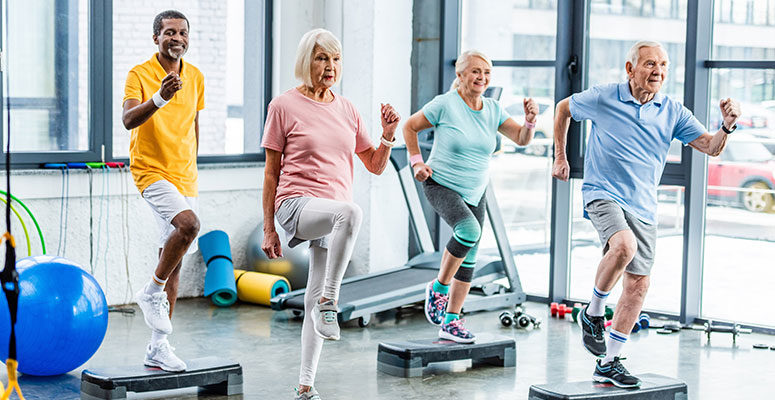 Beginning Weight Training for Seniors
The older you get, the more muscle mass you will lose. However, the faster rate of muscle loss along with the bones become more fragile is a condition that can be reversed. In fact, no matter your age you can gain muscle mass back if you use resistance or weight training for seniors. This type of training can be easy to start, but for those who are just beginning it may take a little time to establish this beneficial habit.
Getting Started
The first step before starting a weight training program designed for seniors is to get checked out by your doctor. You want to address any medical issues you have first and understand your potential along with any limitations of your body. Once completed, you should focus on the following:
Improving Your Diet: Proper weight training should go along with eating a healthy diet. This is especially true if you are trying to lose excess fat. For seniors, the focus should be on eating the right number of calories to provide the energy needed to add weight training. But most importantly to add more fruits and vegetables along with proteins which feed the muscles.
In other words, it is better to add healthy foods to your diet rather than focusing on cutting calories. Your goal is to increase muscle mass which in turn helps to burn more calories in the process.
Starting Training: Remember, getting into good physical condition is a marathon, not a sprint. It may take a little time to see the results, but you should not get discouraged. Instead, start with an exercise plan that is simple and easy. This means not only adding weights but improving your cardio as well.
Stretch for a few minutes to warm up
Walk for 10 to 15 minutes
Engage in light cardio exercise
In order to start weight training, you will need to get your heart and circulatory system in shape. This means low impact exercises such as walking, jogging, or cycling. Depending on your physical condition, you may want to engage in aerobic workouts as well.
Weight Training: The plan is simple, start with light weights that do not cause any pain or strain when lifting. The goal early on is to get the proper form which protects your back, muscles, and joints until they are ready for heavier weights. This means holding light weights while engaging in exercises like the following:
Squats
Chest Presses
Lunges & More
You can use machines or free weights. You'll want to engage in 8 to 19 repetitions of each exercise at least twice per week, three times at most. Be sure there is a day of rest between weight training exercises to allow the muscles to recover and grow.
Weight training for seniors is arguably the most effective way to boost muscle mass which in turn helps to strengthen the bones and reduce excess weight. Starting a training program means establishing goals and creating good eating habits to maximize success.
Contact Blue Parasol Home Care for more information. Please reach out to us directly at 718-349-1905 or info@blueparasol.org.