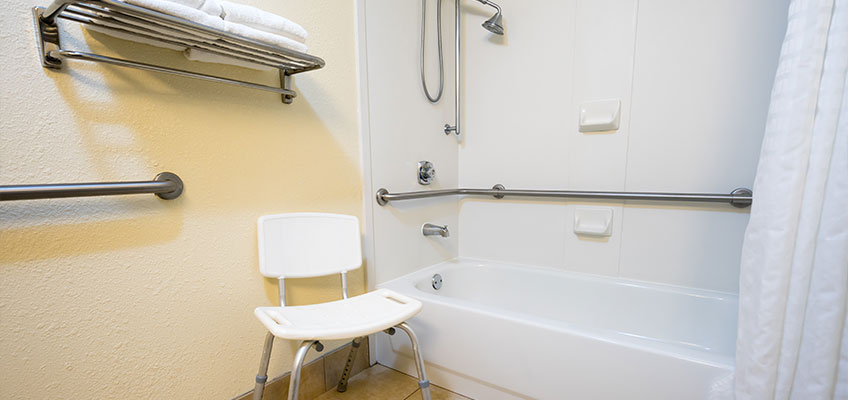 Bathroom Safety Tips to Prevent Falls and Injuries
For seniors who have limited mobility, the bathroom can be a dangerous place. Statistics show that many seniors who are injured in their homes were due to issues associated with using the bathroom. This is especially true for showering and bathing purposes which increases the danger. The good news is that there are simple bathroom safety measures that you can take which will significantly reduce the threat of injury.
Installing Hand Rails
This is perhaps the single best investment you can make for your bathroom. The installation of hand rails by professionals who back their work means that you will always have something to grab onto in the show, around the toilet, and even at the entrance so that you will always be secure.
Getting Rid of Obstacles
Another contributor to injuries in the bathroom are obstacles that can interfere with getting into the shower or on the toilet. Whether it's dirty laundry or just items on the floor that may cause you to trip, the removal of all obstacles so you have a clear path to all areas of the bathroom is important. Many accidents occur when a person steps or trips over an object they forgot or did not see on the floor, so making sure that all of the obstacles are removed is quite important.
Adding Slip-Proof Mats
Putting rubber slip-proof mats in the shower, bath, and on the floor, provides a secure place to stand without slipping. They are inexpensive and quite effective.
Burns from Hot Water
Always test the water first before stepping into a bath or shower. Many seniors get burned because they do not test the water first or accidentally add more hot water which causes scalding to occur. An easy way to not get burned is by setting the water heater to a temperature that will not burn the skin. You can call the professional that services your water heater to ensure that scalding does not occur at least when in the shower or bath.
Poor Visibility
It can become hard to see when the steam rises from the shower or bath. Increasing the ventilation will remove the steam so you can see better. One trick is to run cold water on the base of the shower first, then set the water temperature to the level that you like which will reduce the effects of creating steam.
Not Getting Tired
This one may be harder to prevent, but over-exertion can cause you to slip, trip, or make a mistake that leads to getting injured. While using the toilet is generally an action you do not want to put off, taking a shower when you are tired is never a good idea because it can lead to accidents. So, you can take a shower in the morning after you wake up when you feel more refreshed and alert.
By making bathroom safety a priority, you can greatly reduce your chances of being injured while showering or even stepping on the slick tile floor. The sooner you make the proper changes, the safer you will be.
Contact Blue Parasol Home Care for more information about bathroom safety. Please reach out to us directly at 718-349-1905 or info@blueparasol.org.